Aberdeen Hall is Certified: SERVPRO Cleaned as Students Return to the Classroom
6/9/2020 (Permalink)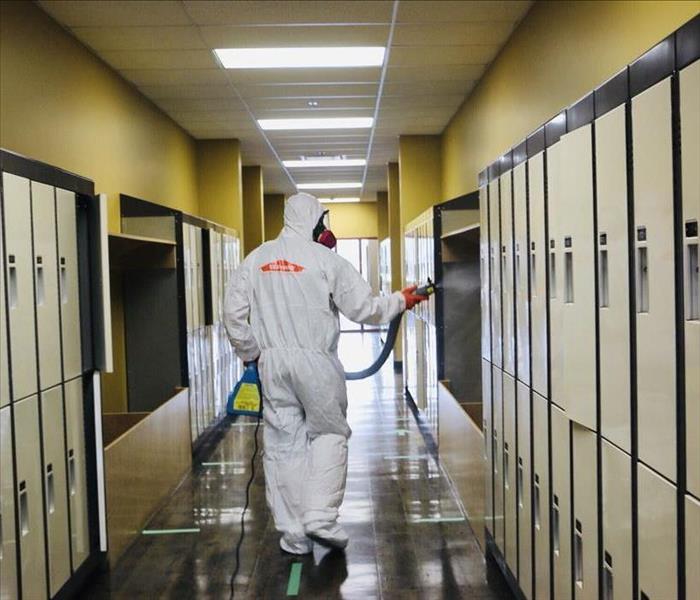 A technician spraying EPA approved, hospital grade disinfectant on lockers at Aberdeen Hall Preparatory School in Kelowna BC.
Disinfecting is a vital part of preventing the spread of COVID-19 and essential to the safe return of students and staff back into the classroom.
As members of the Okanagan community and with many of our own staff having school aged children; our top priority is the health and safety of the students and staff as some return to class this June.
Our team had the pleasure and opportunity to assist in the transition back to school; completing a thorough Certified: SERVPRO Cleaned service at Aberdeen Hall Preparatory School last weekend.
Certified: SERVPRO Cleaned is a proactive viral pathogen cleaning program that goes well beyond normal janitorial cleaning. The service follows processes and procedures that adhere to the standards set by the Public Health Agency of Canada. We use EPA-Approved Hospital-Grade Disinfectants certified for direct food contact surface use. Meaning its safe for you, but not for viral pathogens. Our technicians have advanced training that covers disinfection and the proper use of personal protective equipment. Improper use of products or cleaning methods can actually spread the microorganisms that are responsible for infections.
It was a unique experience to walk through the empty halls and classrooms at Aberdeen Hall. Seeing water fountains closed, distance markers and arrows on the floor. Desks spaced 6 feet from one another and safety & closure notices up on doors confirmed to us that the administration and staff at Aberdeen Hall were doing everything they could to keep their students safe.
"Our staff and faculty have worked diligently to ensure that everyone who returned to Aberdeen Hall felt comfortable in doing so. The health and safety of our students and staff has always been our #1 priority and this message rings true now more than ever. We're very happy with the thorough fog cleaning service provided by SERVPRO last Saturday and feel confident in the knowledge that we have adhered to the highest possible safety standards as we welcome our students back to campus. SERVPRO was very professional, knowledgeable and a pleasure to work with. We are so appreciative to them for reaching out to our school and providing us with this service." - Lindsay Grieve, Director of Operations Aberdeen Hall Preparatory School
As the SERVPRO team completed the disinfecting process in each classroom, hall and office; it was heart warming knowing that we were assisting in ensuring the school was appropriately disinfected. Further providing reassurance that this wonderful school is safe.
SERVPRO of Kelowna is proud to be Here to Help®